In the Mentalist, Season 5, part 5, for the 100th episode of the show, you finally got a glimpse of the disheveled mess that Patrick Jane was after I took away his precious family.  In the beginning, you see an insecure man with what Agent Lisbon called a "homeless vibe" about him.  When Jane walked into the CBI station, he was just an ex-con man who had barely been out of the insane asylum long enough to make it to the CBI office to ask if any progress had been made on my case.
It is strange for those of you who don't remember Jane like I do to have seen him when he wasn't full of confidence, but I stripped him of his confidence for a solid year.  Eventually, Jane starts to recover the vestiges of what he was and is, and helps solve a murder case for the CBI: but not without showing his roots as a con man.
When Jane manipulates Steve Hannigan into punching him, it was the first real action he had taken since being locked away.  In this episode, one can almost see Jane, growing from an insecure victim into the brilliant grifter he used to be.  Getting Hannigan to punch him was a stroke of genius, because it allowed Jane to worm his way into the CBI office.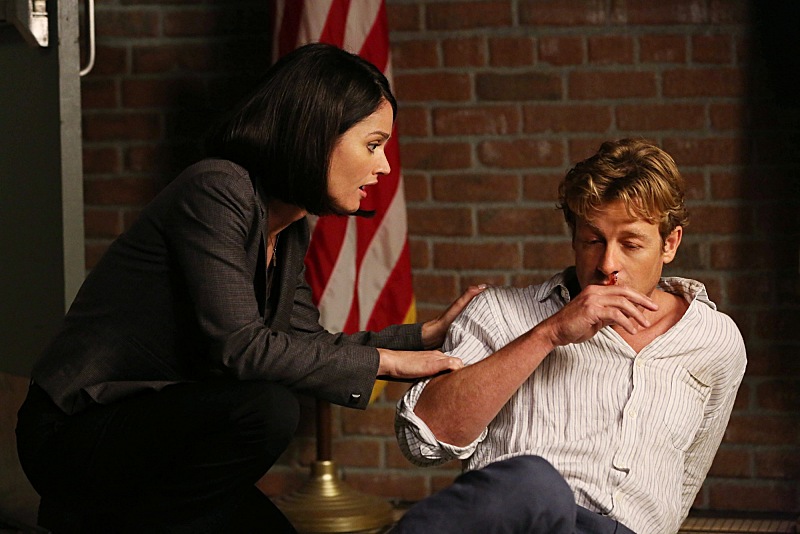 Once he got near the officers and the case files, his instincts took over, and he ingratiated himself to those he needed to, and got to tag along with Lisbon on a case.  His ruse to expose the killer was straight out of his favorite con, the fake psychic, and he worked it to perfection. 
But it's at the end of the episode, in the last minute, that you get to see something really important.  After Jane has been officially hired to assist the CBI, Virgil Minelli gets a call from FBI agent Alexa Schultz.  Schultz and Minelli agree to "cooperate," with Minelli agreeing to keep Schultz "in the loop" on the Red John investigation.  Schultz also informs Minelli that Jane spent the last year in an insane asylum.
After she hangs up, Schultz says, "Done," and the camera pans to her and another, mysterious man in a limo, who says, "Thank you."  In the credits, that man is known as Robert Kirkland. 
As usual, there are more questions than answers here.  Am I Robert Kirkland, sitting across from Schultz, or is Kirkland just another one of my minions? 
Is this whole show, as some very clever fans suggest, going to turn out to be a clever imitation of the "Tommy Westphall Universe," named after a character in St Elsewhere, who imagined the entire series in his autistic mind, and whose series had and has connections to as many as 282 television series?  Are there going to be links to the Tommy Westphall Universe in The Mentalist?  Things like this have been done in the Wizard of Oz and Dallas.  It was also done in the short-lived "Life on Mars."
Am I a figment of Jane's imagination?  Is he still in the insane asylum imagining all of these events and people?  Or am I an alternate Jane personality who killed his own family?  Am I any of the many possibilities that have been explored on this website?
My identity will eventually be revealed on the show, but not before I've tormented Jane a lot more.  Keep reading, and keep watching.  The best is yet to come.
---